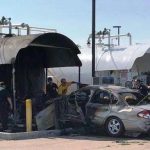 A Wild Ride
It was a situation the Davenport Municipal Airport could never have anticipated: a man fleeing the cops by vehicle ran his car through an airport gate, sped down the taxiway and crashed into the AVGas fueling platform, causing a fire that destroyed the pumping system.
While the crash could have been devastating on a much larger scale, three fuel dispensing safeguards Acterra had installed throughout the fueling system worked exactly as planned, preventing a worse-case scenario.
The safeguards—a thermal shutoff valve, an impact shutoff valve and a power interrupting shutoff valve—worked to prevent the release of fuel from the main storage tank. Thankfully, the main tank suffered only cosmetic damage, and was still operational.
Rebuilding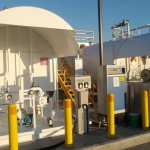 Thanks to a quick response from firefighters, the fire was extinguished within minutes, and excess water was removed within hours. Once the scene was cleared, Acterra got straight to work with the Airport to inspect and pressure check the system. Because the fueling facility needed to be completely shut down until everything was resolved, we set up a temporary dispensing system to minimize service interruptions while testing and repairs were underway.
To get their fuel station back up and running as quickly as possible, we got to work as soon as we had approval to rebuild the dispensing platform. While we anticipated a four-month build, we were able to complete the project after only three and a half months.
We don't like to think what might have happened had the safeguards not been in place AND functioning properly. It's a great reminder to not only take every precaution when you're building your fleet fueling system—but to take extra care during inspections and routine maintenance.