Earlier this year, the Acterra Electrical division travelled to Leer, Germany to check out two promising new wind turbines: the Lely Aircon 10 and Lely Aircon 30. We were totally surprised by how quiet and unobtrusive both turbines were and even more impressed with the engineering.
As anyone who has serviced big industrial machinery will tell you—the simpler, the better. The Lely Aircons feature no gears and minimal moving parts (all of which meet the industry's highest standards), making them extremely user-friendly and easy to maintenance—a major benefit considering their 20+ year life expectancy.
Who is Lely?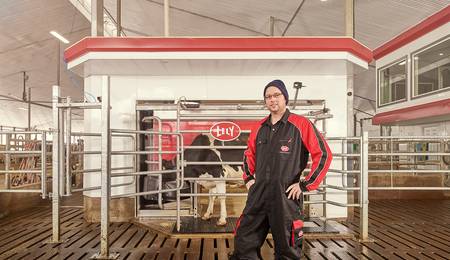 If you're a dairy farmer, chances are you're already familiar with the Lely brand, known for its reliability and the famous Lely Astronaut robotic milking system. For years, Lely has led the push to automate farms to make them more self-sustainable, environmentally-friendly and future-ready. Now that the company has added the Aircons to their product offerings, more farmers will have the chance to be energy independent, and potentially, add a new source of revenue to their operations.
Automation & Self-Sufficiency
While automation has made life much easier for the modern farmer, it's also led to an increase in energy consumption. Energy-efficient equipment has helped alleviate some of the burden, but overall demand for electricity continues to increase—along with prices. Adding one or more wind turbines (either alongside photovoltaics or on their own) produces energy that can be directly fed to your farm and used exactly where it's needed. And depending on where you're located, the incentives could be sizable. (To learn what incentives are available in your state, consult the DSIRE database here.)
According to Lely, the Aircon 10 produces enough electricity to power one Lely Astronaut, while the larger Aircon 30 can power three Astronaut robots plus additional equipment. Lely also makes small wind turbines, which can be used outside the farm in residential developments and industrial settings.
Lely Aircon Now Available Exclusively through Acterra
Just seeing the Aircons in person was enough to pique our interests. But looking the benefits on paper got us really excited—from the potential payback and return on investment to the low total cost of ownership—we were sold. We got to work training directly with Lely on how to plan for, install and service the entire Lely Aircon line of wind turbines. And as of May 21, 2018, Acterra became the first and only distributer in the US to carry the Lely wind turbines.
Interested in adding a Lely turbine to your farm, property or industrial application? Contact us today.