Acterra manufactures aboveground storage tanks suitable for a variety of applications, and is compliant with AST regulations and standards.
OUR ABOVEGROUND STORAGE SOLUTIONS INCLUDE:
FLAMMABLE & COMBUSTIBLE STORAGE
Single-wall and double-wall tanks are manufactured per UL142 fabrication standards. These tanks are labeled and designed for storing flammable and combustible liquids. Manufactured as horizontal or vertical, the tank can be cylindrical or rectangular, using carbon or stainless steel. Tank capacities up to 50,000 gallons are available in single or multi-compartments.
API-12F SHOP WELDED TANKS
Strict quality control assures that each tank is manufactured with A-36 (commercial quality) 3/16 and 1/4 inch steel. Tanks are interior and exterior welded to API specifications and pressure tested.
Flameshield® aboveground storage tanks are manufactured with a tight-wrap double-wall design. Standard features include 2-hour fire tested performance, built-in secondary containment and interstitial monitoring capability.
F921® aboveground storage tanks are manufactured with a doublewall steel design. Standard features include built-in, testable, interstitial monitoring capability and impermeable secondary containment. The F921® delivers uncompromising performance, reliability, service and economy.
Fireguard® double-wall fire-protected aboveground storage tank features an inner and outer steel tank with a minimum of three-inch unique lightweight thermal insulation material that exceeds the UL-2085 2-hour fire test. Insulating material is 75% lighter than concrete, reducing shipping, installation and relocation costs.
Fireguard® Tanks are lightweight and come with a 30-year limited warranty. The high efficiency insulation protects the inner tank in the unlikely event of a fire or extreme heat. It is porous to allow fluid migration through the interstice to the monitoring point.  Both horizontal and vertical tanks are available.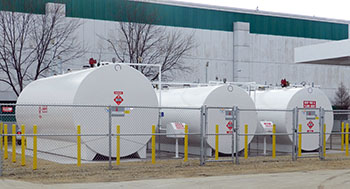 TankScan® wireless tank monitoring lets you check fluid levels in multiple tanks, across multiple sites, from any device, any time. You get real time access to data you can use to reduce your costs, improve your efficiency, and expand your customer base. Learn more.